Just married? Getting married soon?
Looking for the ideal romantic honeymoon destination?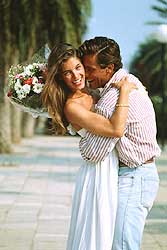 Spend a dream honeymoon in the most romantic locations in Germany!
You've taken your vows and now your embarking on the most exciting journey of your lives: marriage!
The first stage of this journey is your honeymoon. Prepare this well ...
Make sure your special day is followed by the most special holiday of your life.
Make your wedding and honeymoon unforgettable – something to always look back upon with joy, and something to enthuse about to your children, your childrens' children, your friends and relatives ...
Whether you want solitude and relaxation or highlife and activity – or a balanced mixture of both – Germany has scores of attractive locations and romantic getaways for a memorable honeymoon.
Enjoy beautiful countryside and be captivated by the moods of the seasons ...
... take in breathtaking scenery on a Rhine cruise past historical ruins, fortresses and castles
... feel the magic of a moonlit night and starry sky over this romantic scenery
... explore Germany's rich history in numerous castle grounds and fascinating castle museums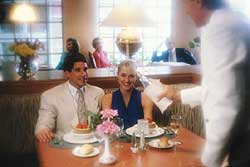 ... experience German culture, traditions and lifestyle at local festivities throughout the year
... take part in wine-tasting directly at the vineyards and wineries (learn about wine and wine-making and take a few bottles home for subsequent anniversaries!)
... discover the local culinary delights and specialities
... live like royalty in a medieval castle (with the advantage of modern amenities!)
... and for the ultimate in romance, experience the sunset over Neuschwanstein – the Dreamking's Castle – and stay in a hotel nearby with the "one million dollar view" ...
... above all, let yourself be pampered by friendly, hospitable hosts who will do their utmost to make your honeymoon unforgettable!
Wedding in Germany | Getting Married in Germany
Rhine River Valley - Mainz, Rudesheim, Lorelei Rock, Koblenz Nonsmoking - Canopy bed holiday apartment Wilhelm Hermann Book a cheap, private vacation apartment in Oberwesel on the Rhine River. About 55 sqm, newly renovated in 2014/15. 2 walking minutes to 4 boat landing stages. Air line distance about 630 meters from the castle Schonburg
Rhineland-Palatinate, Rhine River Valley, near Loreley Rock Castle hotel restaurant Auf Schonburg ****, Oberwesel Enjoy and let yourself be pampered in a 1000-year-old castle with 22 comfort bedrooms, individually furnished, a fireplace room for dwelling, prison tower with seating unit, terraces with view over the Rhine River Valley
Oberwesel on the Rhine River, on the Rhine hills between Frankfurt, Mainz, Coblence / Koblenz and Cologne / Koln, Rhineland-Palatinate, southwest Germany
+

To find the perfect honeymoon package, have a look at our recommendations for some of the best honeymoon destinations:
| | | |
| --- | --- | --- |
| | Rhine River cruises to visit German wine festivals in 2017 Rhine River Lights: half day boat cruises, firework displays Discover Germany with half day Rhein Valley cruise trips, wine festival and fireworks between Cologne, Koblenz Coblence, Boppard, St. Goar, Oberwesel, Bacharach, Bingen, Braubach, Assmannshausen, Rudesheim and Frankfurt | |
+
A huge number of German towns and cities have hotels that offer special vacation packages for a couple who's on their honeymoon and wants to spend their honey moon night in a honeymoon suite. Sometimes it is in fact better to book a cheap vacation package including breakfast, lunch and dinner and perhaps including something special like a candle-light-dinner rather than paying the price of every single day with every single meal and every single specialty. Of course you don't have to stay at one place for the entire honeymoon. If you want to and depending on how long your holidays for your honeymoon are, you could do short tours to different destinations. As already mentioned, some hotels and castle hotels offer so-called honeymoonsuites which are especially suited for newly weds. But even if the rental accommodation you've chosen doesn't have special honeymoon rooms, there's almost always at least one bedroom which suits the wishes of newlyweds with romantik features such as a four
poster bed
or
beds with a canopy
. Some castles might even have a room with an own Jacuzzi and afterwards you can watch the sunset from the balcony or terrace. Or a 4- or 5-star hotel has large luxury suites (sometimes also with 2 bedrooms, mostly used by families with kids as the children's room) with charming furniture and furnishings – maybe even a waterbed to sleep and dream in.
But even if you decide to stay your entire honeymoon – say for a week or so – in one hotel or castle hotel, there are surely a lot of different interesting things to do or visit in the city or in the nearby cities. If you want to learn a bit more about the history and culture of the city or town you're staying in, you could do what a lot of people do while staying in a place that's not familiar to one: participate in guided tours and march through the city or town. The tour guides that do these trips with the tourists are of course specialists on their field. They also always have a lot of information about the places and short stories to tell. Perhaps there happens to be a nice festival somewhere in the area during your stay that you could visit. Or how about a boat cruise on a river that's not that far away? You could enjoy the scenery as well as a glass of wine during your boat trip. Be sure to take your camera with you on your boat cruise so you can take breathtaking pictures of your perfect getaway and show them to your relatives at home. One of the most famous European rivers to have boat cruises on is the Rhine River. Some well-known cities near the Rhine River are
Dusseldorf
or
Cologne
. There are of course several other cities and small towns near the Rhine River. If you're interested in a certain region and want to know if the Rhine River is near that region, it would be the best to have a look at a German map. Even if you discover that the region you want to spend your holiday in is not near the Rhine, maybe it's near another river such as the Moselle, the Main (which lies near
Frankfurt
and its airport) or the Neckar, for example near Heidelberg. By the way, these mentioned rivers are just a few of the numerous tributary streams of the Rhine River. And after such an adventurous and exciting day, the hotel can surely offer you opportunities for relaxation and recreation.
If you have no idea whatsoever to which region in Germany you'd like to travel to, you could narrow it down somewhat by first choosing a federal state. Well-known federal states to visit are for example Bavaria with its capital city Munich. Other interesting places in Bavaria are Nuremberg, Wurzburg or the castle Neuschwanstein which lies above Hohenschwangau near Fussen. Another federal state that's worth a visit is Baden-Wurttemberg where you'll find the region of the
Black Forest
. The Black Forest is famous for its extraordinary waterfalls in the town of Triberg, which are the highest in Germany and range over 7 cascades with an overall drop of 163 meters, so be sure to take a picture or two of this beautiful scenery if you happen to be there. It is also famous for the manufacturing of the famous cuckoo clocks. Yet, the biggest, free-hanging, hand-carved cuckoo clock of the world can not be found here, but instead in the federal state Rhineland-Palatinate in St. Goar on the Rhine River. These are just a few of the German federal states that are worth a visit.
And if you don't want to do all the work in finding something that fits your expectations and lifestyle, then let someone else do it for you. Wether it's the wedding or the vacation. For the wedding, you could hire a wedding planner that plans and organizes the entire wedding with everything that belongs to it with and for you. This starts with the preparation of the bachelor / bachalorette party and perhaps the traditional German "Polterabend" (a party given in the house / apartment of the bride-to-be by the same and groom, to which anyone is invited and where the guests throw dishes to bring the couple that's going to get married luck) and goes all the way to choosing the appropriate location to rent, the right catering or also the planning of the honeymoon in order to find nice resorts. For the honeymoon you could also go to a travel agency and ask them for help in finding a place to spend your honeymoon. Maybe they can recommend a certain season to visit a certain region (if you plan on visiting Munich in Bavaria for example and if you're interested in it, you should visit it in the month of October and visit the famous October festival). And a lot of travel agencies send a hotel tester to hotels to test everything in the hotel from the check-in service to the cleanliness of the mattress.
Romantic castle hotel rooms in Germany with canopy beds
Wedding in Germany | Getting Married in Germany
NEW: A clickable map with castle hotels in Germany www.german-castles.biz
NEW:
Individual round castle tour through south Germany
Please look also at www.germany-castles.net
Airline reservation Germany: online ticket reservations | air travel schedule | cheap discount ticket price rate | airport maps Europe | airport map Germany | trans world airline flight company