Just married? Getting married soon?
Looking for the ideal romantic honeymoon destination?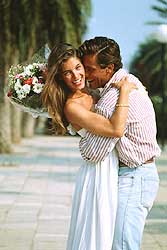 Spend a dream honeymoon in the most romantic locations in Germany!
You've taken your vows and now your embarking on the most exciting journey of your lives: marriage!
The first stage of this journey is your honeymoon. Prepare this well ...
Make sure your special day is followed by the most special holiday of your life.
Make your wedding and honeymoon unforgettable – something to always look back upon with joy, and something to enthuse about to your children, your childrens' children, your friends and relatives ...
Whether you want solitude and relaxation or highlife and activity – or a balanced mixture of both – Germany has scores of attractive locations and romantic getaways for a memorable honeymoon.
Enjoy beautiful countryside and be captivated by the moods of the seasons ...
... take in breathtaking scenery on a Rhine cruise past historical ruins, fortresses and castles
... feel the magic of a moonlit night and starry sky over this romantic scenery
... explore Germany's rich history in numerous castle grounds and fascinating castle museums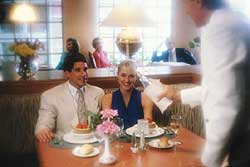 ... experience German culture, traditions and lifestyle at local festivities throughout the year
... take part in wine-tasting directly at the vineyards and wineries (learn about wine and wine-making and take a few bottles home for subsequent anniversaries!)
... discover the local culinary delights and specialities
... live like royalty in a medieval castle (with the advantage of modern amenities!)
... and for the ultimate in romance, experience the sunset over Neuschwanstein – the Dreamking's Castle – and stay in a hotel nearby with the "one million dollar view" ...
... above all, let yourself be pampered by friendly, hospitable hosts who will do their utmost to make your honeymoon unforgettable!
Wedding in Germany | Getting Married in Germany
Rhine River Valley - Mainz, Rudesheim, Lorelei Rock, Koblenz Nonsmoking - Canopy bed holiday apartment Wilhelm Hermann Book a cheap, private vacation apartment in Oberwesel on the Rhine River. About 55 sqm, newly renovated in 2014/15. 2 walking minutes to 4 boat landing stages. Air line distance about 630 meters from the castle Schonburg
Rhineland-Palatinate, Rhine River Valley, near Loreley Rock Castle hotel restaurant Auf Schonburg ****, Oberwesel Enjoy and let yourself be pampered in a 1000-year-old castle with 22 comfort bedrooms, individually furnished, a fireplace room for dwelling, prison tower with seating unit, terraces with view over the Rhine River Valley
Oberwesel on the Rhine River, on the Rhine hills between Frankfurt, Mainz, Coblence / Koblenz and Cologne / Koln, Rhineland-Palatinate, southwest Germany
+

To find the perfect honeymoon package, have a look at our recommendations for some of the best honeymoon destinations:
.